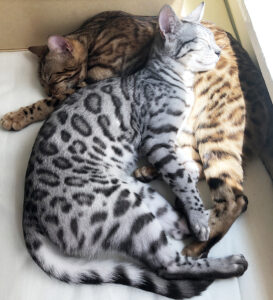 Our Queens
Optimal health and temperament are our main goals.
The primary considerations when selecting our breeding cats is their great health and stellar personalities. Providing clients with quality life long loving companions is our top priority.
Freyja
An elegant and sleek Silver Spotted Bengal with green eyes and doughnut rosettes. Her rosettes are exquisite.  She is a well-natured and an extremely affectionate cat.
Next litter expected to be in July
New queens will be joining The Borough Bengal family this Spring!
Check back for pictures and updates.
Questions on our queens or upcoming litters?
For more information on any of our cats or to reserve a kitten from an up coming litter, please contact us.