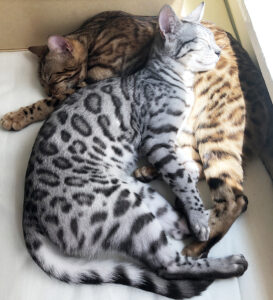 Our Queens
Optimal health and temperament are our main goals.
The primary considerations when selecting our breeding cats is their great health and stellar personalities. Providing clients with quality life long loving companions is our top priority.
Lily
Beautiful Brown Spotted Bengal with greenish hazel eyes and doughnut and paw rosettes with a stunning contrast. Her father is a champion for Best Short Hair of 2017 in the Mid Atlantic TICA Regional Awards.  She comes from a pedigree of award winning bengal cats. She is very energetic, loving, and talkative cat.
A litter is expected this March!
Possible brown and/or snow kittens!
Freyja
An elegant and sleek Silver Spotted Bengal with green eyes and doughnut rosettes. Her rosettes are exquisite.  She is a well-natured and an extremely affectionate cat.
A litter was born 12/28/19
A snow male and silver male kittens are available!
Ostara
She is an exciting new and rare Charcoal Lynx Bengal with a black masked face, light beige rosettes, and light crystalline blue eyes.
Questions on our queens or upcoming litters?
For more information on any of our cats or to reserve a kitten from an up coming litter, please contact us.